Networking is a great way to grow your business, so we've made it simple to find a local event that speaks to your business needs by aggregating tons of great local entrepreneurial, tech, and business development events into one easy-to-use calendar.
Note: Many events are imported to StartWheel's calendar automatically. Event details are subject to change without notice to us. Please be sure to visit event organizer's website to confirm event details.
DreamBuilder: The Business Creator (July-Sept. 2019)
Do you dream of owning your own business?
Make your dream a reality…enroll in the DreamBuilder entrepreneurial training program!
The instructor-led innovative 9-week course explores all areas of business ownership through a carefully crafted and engaging curriculum
Covers core topics that must be taken into consideration for creation, innovation, and diversification for a successful business.
Topics include planning, marketing, pricing, management, accounting, managing risk, setting goals, and much more.
Earn a DreamBuilder Certificate while creating your business plan by the end of the course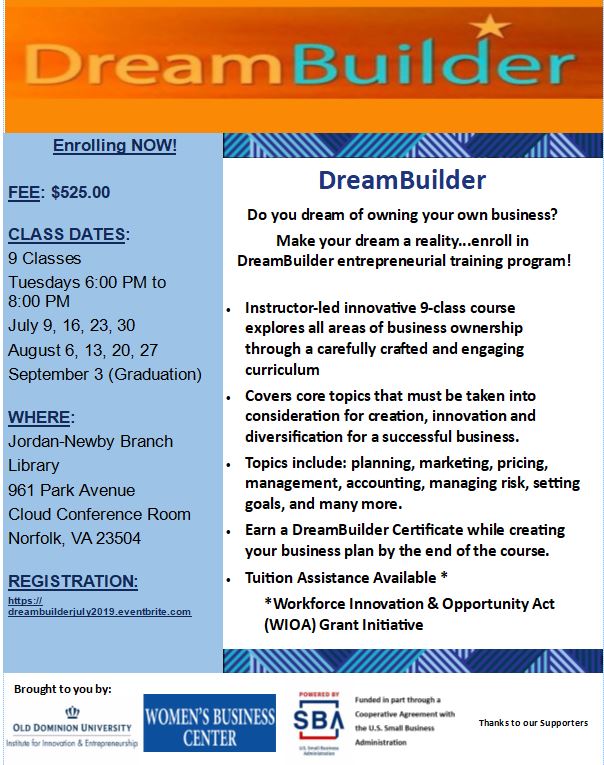 Tuition Assistance Available *
* Tuition Assistance available through Opportunity, Inc. Workforce Innovation & Opportunity Act (WIOA) Grant Initiative. To determine eligibility and qualify for assistance, please contact a Virginia Career Works office nearest you:
Military Circle East at 861 Glenrock Road, Ste. 100, Norfolk, VA 23502, Tel: 757-461-7537
Suffolk Workforce Development Center, 157 North Main Street in Suffolk, VA 23434, Tel: 757-514-7737
Regional Workforce Development Center located at Paul D. Camp Community College, 100 North College Drive, Franklin, VA 23851, Tel: 757-569-607
StartWheel's mission is to centralize and mobilize efforts that foster the growth of entrepreneurism in our regional innovation economy. We aim to support and cultivate an entrepreneurial network in HRVA where talent, resources, information and leadership come together.
Related Events